SMARTER
---
BUSINESS SECURITY
Alarm.com provides professionally monitored security solutions for small and medium businesses, ranging from single-site to multi-location enterprises.
With professional-grade security, video monitoring and energy management solutions, you can keep your business secure, gain new awareness and instant visibility into key operational activities, and manage your energy costs.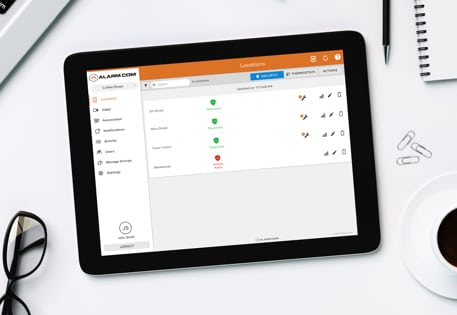 Smarter Access Control
Alarm.com's award-winning Smarter Access Control solution allows your customers to manage access to their small and medium-sized business properties.
Fully integrated with our intrusion, video and energy management solutions, you can offer access to your business customers to create a truly all-in-one experience.
Powering the Smart Business
---
Connect your security, lights, locks, thermostats, video and more, for seamless automation and control.
Explore our smart business floor plan to learn more
Was the alarm turned on? With reminders, remote control and auto-arming, your business is never left unprotected, even if someone forgets to arm the system.
Remembers Even If You Or Your Employees Forget
Easily set up your system to arm automatically at a certain time each day or after a certain period of inactivity.
There Are Cameras And There Are Connected Cameras
Our cameras communicate with the security system, capturing clips as soon as activity happens and sending them right to your phone. You can see the footage you care about right away — if the alarm goes off, a door is unlocked, or unexpected activity happens during off hours — without sifting through hours of video. You still have access to 24/7 footage, if needed.
False Alarm?
Don't drive to your business in the middle of the night. If your alarm is activated, your system will text you pictures of what set it off so you can decide whether or not to dispatch authorities.

---
Don't waste money heating or cooling your business when no one is there. A smart thermostat helps you save automatically, even if someone forgets to turn off the AC or heating when they're closing up for the day.
Our Systems Go Beyond Security
Our system automatically sets the thermostat back when the alarm system is armed and everyone has left.
Automatically Reduce Energy Waste
Connecting lights, locks and thermostats to the security system ensures that your business is at a comfortable temperature when it's open and energy efficient when it's closed.
Stay in Control Even When You're Not There
With on-site thermostat lock-out, employees can't crank up the air conditioning or blast the heat outside of a temperature range you define.

---
Did someone go into your office? How about the inventory room? Or the server room?
Who and what is going in and out of the back door?
Get real-time notifications to keep you informed.

Keep an Eye from Anywhere
From helping you distinguish between a false alarm and a real one to knowing that your store opened on time to getting an alert if a sensitive area of your business is accessed, Alarm.com keeps you informed in real-time and never leaves you wondering.
New Employee?
Employee Left the Business?
Easily add or delete an alarm code in a few clicks without having to call the alarm company or using the keypad.

Business Insights
---
Get visibility into activity trends to make smarter decisions around staffing, promotions, energy use and more.
Easy to understand reports let you quickly see activity patterns across your business and spot unexpected changes.
Visualize Trends
Monitor open/close trends for each location
Identify peak periods of activity and customer traffic
Uncover Activity
Pinpoint activity such as unexpected entry after hours, or doors propped open that could cause energy waste or safety concerns
Keep a historic timestamp of which users disarmed the system
Simple Interface
Single site and multi-site reporting
Choose your report schedule and view data daily, weekly or monthly