Speak directly to your customers and expect up to 30% increase in sales
Flexible In-Store Visual Platform
Whether you're looking to educate or entertain the people in your business, Digital Signage offers a modern, attention-grabbing platform to relay your message.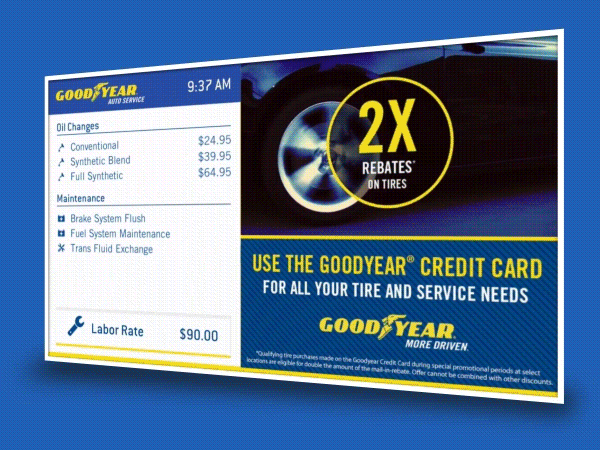 Plug and Play
Our sleek and powerful Digital Signage media player ships preloaded with your content, so all you need to do is power it up, connect it to your TV via HDMI, then connect to WiFi. It's literally that easy.
Easy To Manage
Our custom-built CMS makes managing your playlist quick and easy. That why our customers say Spectrio offers the most user-friendly Digital Signage CMS on the market.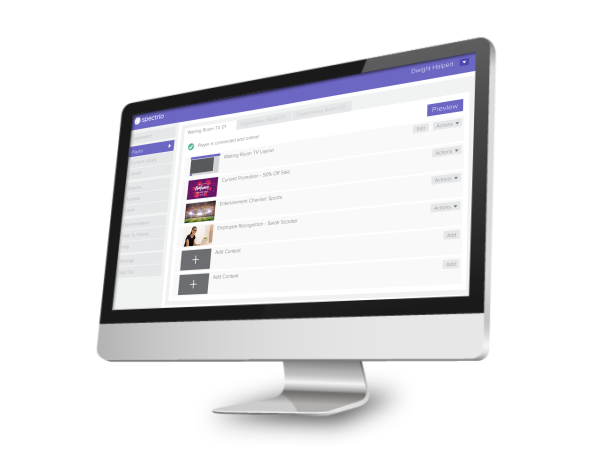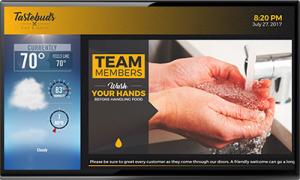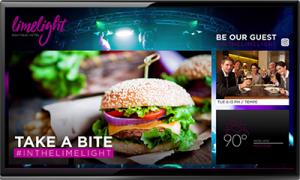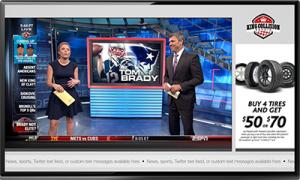 Waiting Room TV Programming
Waiting Room TV
Give the people waiting in your business a branded entertainment solution. With family friendly content from popular networks like CBS or NBC playing alongside branded content, wait times will feel shorter while delivering valuable messaging about your business.
Private Label TV
Stream popular shows and entertainment clips while replacing competitors' ads with your own branded graphics and messages. Share informative, educational, and internal communications that are most important to your audience, brand and employees.
Live Cable Pass-Through
Keep your brand front-and-center by using branded content frames that wrap around the programming options available in a standard cable subscription.
Digital Menu Boards
Menu Boards
Display menu items and service offerings on engaging screens that inform customers and allow for real-time updates and price changes. They're not just for restaurants and auto shops–display product pricing, sales promotions, notifications for customers and staff, and more.
Engage Customers With Custom Content
Customize content easily through location-based marketing, day-parting for demographics, holiday specials, or weather, etc
Wayfinding and Interactive Displays
Show Visitors Where To Go
Help visitors find their way with interactive wayfinding tools that tell users how to reach their destination from their current location.
Interactive Kiosks
Put audiences in charge of their experience by utilizing interactive screens that enable users to input information and interact with custom content.
Custom Solutions
Video Walls
Improve aesthetics and share important messages by combining multiple screens to create a unique and engaging focal point in your location.
Custom Productions
Our production team can create custom graphics and animations to fit your digital signage needs, including infographics, educational videos and more.